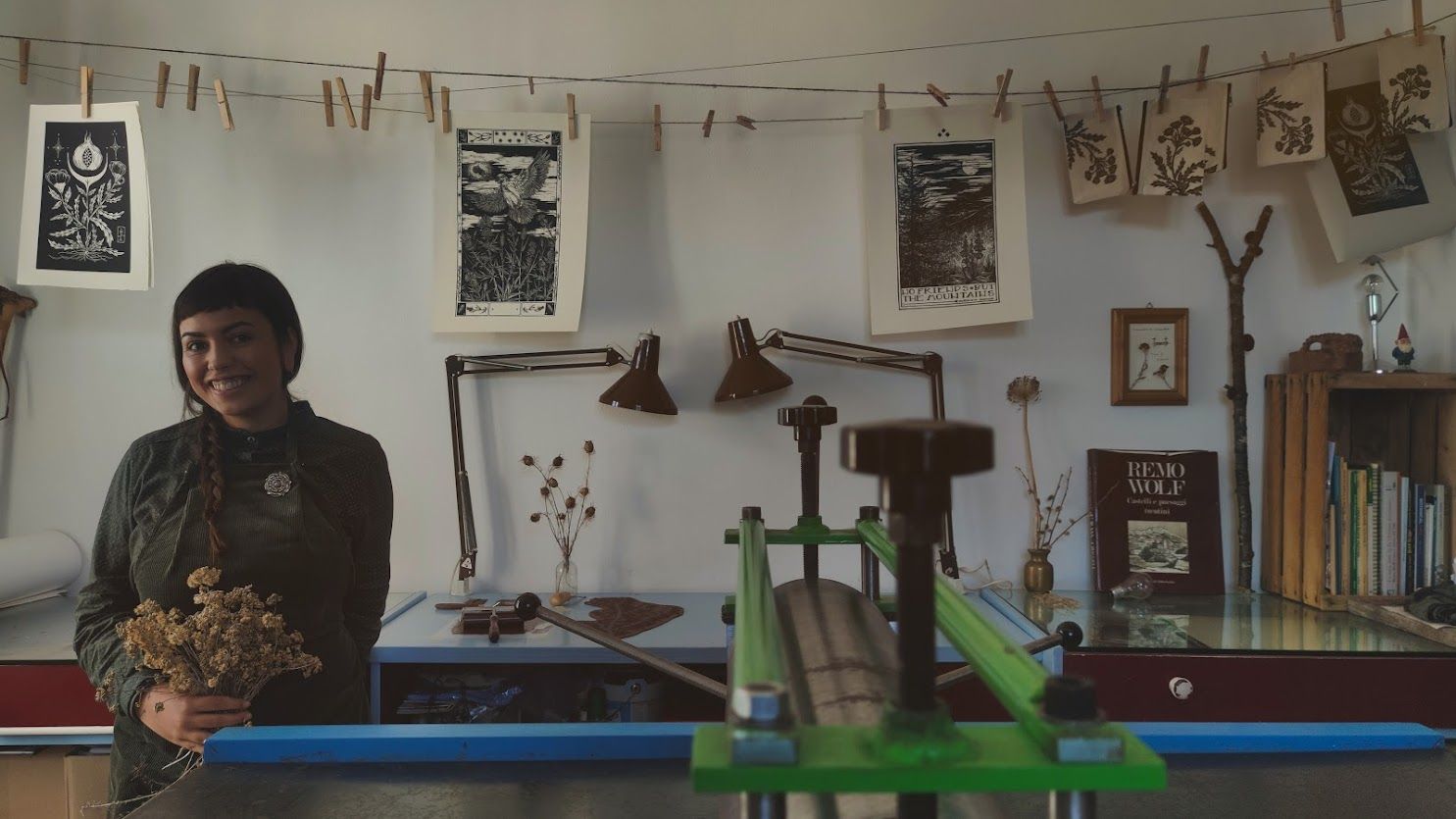 BIOGRAFIA (ITA)
Mi chiamo Clarissa, ho 28 anni e vivo in Trentino – Italia.
Incido e stampo da quando terminai le superiori nel 2011, ma il progetto Békla prende forma nel 2013 concretizzandosi completamente nel 2018, momento in cui mi sono trasferita in un piccolo paese di montagna di appena 78 abitanti (me compresa). Qui finalmente ho avuto lo spazio per avere un laboratorio attrezzato, comodo e dedicato alla stampa.
Mi sono specializzata in tintura naturale dei tessuti con le piante che raccolgo nei boschi qui attorno; incisione su legno e linoleum, e stampa su tessuti naturali con inchiostri a base vegetale.
La carta che utilizzo viene dagli scarti di grandi fabbriche.
I tessuti sono biologici o vintage e sono completamente naturali.
Nel mio lavoro trovo meditazione, lentezza, quiete. È qui che la mente diviene silenziosa e lascia spazio all'ascolto.
Fonte di ispirazione infinita è la montagna, con le sue erbe e le sue creature, sia nello spazio fisico che in quello metafisico. Con le mie stampe cerco di trasmettere questo sentore: al di là dell'estetica, che possano fungere da ricordo presente di un mondo lento, ciclico e vivo, a misura d'essere umano che è parte integrante della natura che lo circonda.
BIOGRAPHY (ENG)
My name is Clarissa, I'm 28 years old and I live in Trentino – Italy. I have been carving and printing since I finished high school in 2011, but the Békla project took shape in 2013 and completely materialized in 2018, when I moved to a small mountain town of just 78 inhabitants (including myself). Here I finally had the space to have an equipped, comfortable and dedicated laboratory for printing.
I specialize in fabrics dye with the plants that I collect in the woods around here; xilography and linocut, and printing on natural fabrics with plant-based inks.
The paper I use comes from the scraps of large factories.
The fabrics are organic or vintage and are completely natural.
In my work I find meditation, slowness, stillness. This is the moment where the mind becomes silent and gives space for hearing.
The Mountain is an infinite source of inspiration, with its herbs and creatures, both in physical and metaphysical space.
With my prints I try to convey this scent: beyond aesthetics, they can act as a present memory of a slow, cyclical and living world, on a human scale that is an integral part of the nature that surrounds it.
Où trouver l'artiste
https://www.etsy.com/fr/shop/BEKLAprintmaking
https://www.instagram.com/beklaprintmaking
https://www.facebook.com/BEKLAprintmaking
Sur le shop